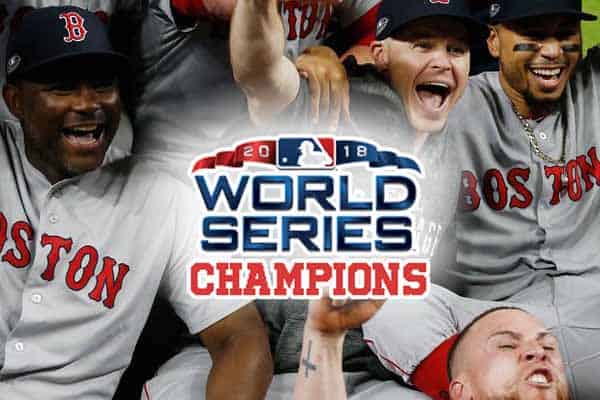 It's never too early to look ahead – even if you just won it all.
The Boston Red Sox beat the Los Angeles Dodgers by a score of 5-1 in L.A. on Sunday night, winning the 2018 World Series in five games and capturing the 9th title in franchise history – tying the Oakland Athletics for 3rd most titles all-time.
After the game, oddsmakers were quick to put out their odds on each team's chances of winning the World Series in 2019, making the Red Sox the favorite to repeat after their historic 108-win season.
Bovada has the Red Sox at (+650) and is the current favorite with oddsmakers believing the team has a good chance to repeat next season, but not by much when considering how to dominate the baseball team was in 2018.
The Houston Astros, coming off a strong 2018 season after winning it all in 2017, opened at (+700) and narrowly behind the Red Sox, who beat the Astros in five games in the 2018 ALCS.
After losing in the World Series in back-to-back seasons, the Dodgers come in at (+800) to for those believing 2019 will finally be their year.
Behind the Dodgers is the New York Yankees, getting (+800) after falling 3-1 to the Red Sox in the ALDS this season.
Rounding out the top five is the Chicago Cubs at (+1000) with the team coming off a disappointing season where they lost in the best-of-one NL Wild Card round against the Colorado Rockies – two years after winning the franchise's first World Series title since 1908.
Bringing up the rear are the Baltimore Orioles at (+35000), and if you think the Orioles, who finished last in the MLB in 2018 with a 47-115 overall record, will go from worst to first in 2019, then a $100 bet would win $35,000 should the team win it all next year.
Here are each team's odds of winning the World Series next season from the MLB futures section at Bovada Sportsbook.
Odds to Win the 2019 World Series
Boston Red Sox (+650)
Houston Astros (+700)
Los Angeles Dodgers (+800)
New York Yankees (+800)
Chicago Cubs (+1000)
Cleveland Indians (+1200)
Atlanta Braves (+1400)
Milwaukee Brewers (+1400)
Louis Cardinals (+1800)
Philadelphia Phillies (+2000)
Washington Nationals (+2000)
New York Mets (+2500)
Colorado Rockies (+3500)
Oakland Athletics (+3500)
Los Angeles Angels (+4000)
Tampa Bay Rays (+5000)
Arizona Diamondbacks (+6000)
Pittsburgh Pirates (+6000)
Seattle Mariners (+6000)
Chicago White Sox (+6500)
Minnesota Twins (+7500)
Toronto Blue Jays (+7500)
San Francisco Giants (+10000)
Cincinnati Reds (+12500)
Texas Rangers (+12500)
San Diego Padres (+15000)
Detroit Tigers (+25000)
Kansas City Royals (+25000)
Miami Marlins (+25000)
Baltimore Orioles (+35000)