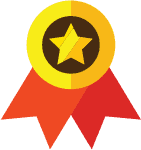 Don't you wish you could take Doc's time-traveling DeLorean from Back to the Future Part II, go to the future to learn the outcome of sports and events, and come back to the present to place a bet based on the knowledge you gathered, becoming a gazillionaire in the process?
Unfortunately, this reality doesn't exist. However, here at Future Betting Odds we offer all the most important resources and information regarding betting on future sports events such as types of wagers, strategies on odds, potential payouts, and relevant gambling laws.
Top Sportsbooks Offering Future Betting Odds In 2023
| Sportsbook | Bonus Offer | U.S. | Rating | Visit/Review |
| --- | --- | --- | --- | --- |
| | 50% Max $250 | | 4.7/5 | Play Now |
| | 50% Max $1000 | | 4.4/5 | Play Now |
| | 50% Max $1000 | | 4.3/5 | Play Now |
2023 Sports and Events You Can Bet on for Futures
When it comes to picking a futures event to wager on, whether it be the Super Bowl or who will be the next president of the United States, we've got you covered with in-depth analysis of all the most popular sports and events that can be wagered on around the world. Below is a list of sports and events we cover:
Soccer – coming soon
Hockey – coming soon
Boxing & MMA – coming soon
Golf – coming soon
Motor Sports – coming soon
Types of Futures Bets
A futures bet is a wager placed ahead of time, sometimes weeks or months in advance, on the outcome of an event where the payout will not occur until the outcome of an event is decided upon.
Outright Bets
The most common type of bet placed on futures is an "outright bet." An outright bet is a bet on the outcome of an entire league or competition as opposed to the outcome of a single game. Typically, outright bets are placed before the start of a season for sports or political candidates hit the campaign trail during election season, but outright bets on futures are also available during a season.
Prop Bets
The other type of wager you can place on futures is a proposition bet or "prop bet" and often referred to as a novelty or side bet. A prop bet is a wager made on something occurring or not occurring during an event that does not affect the actual outcome of the event. Props bets are more commonly found in live bets, but they do occur in future betting as well. The odds of a coach getting fired before the end of the season or who will be the most valuable player in a league are some examples of prop bets on futures.
Parlay Bets
Parlay betting, which is when a wager is placed on two or more outcomes and can only be won if all outcomes come true, can be found when betting on futures, but it is much less common. The reason for this is because the odds of a winning parlay are much less than the true odds and become worse as a bet is placed on more outcomes. In regard to betting on futures, predicting the outcome of one event is hard enough, but predicting multiple outcomes for the same event is even harder, making parlays a less popular choice in future betting.
The legality of Betting on Futures In 2023
United States
Betting Online: In the U.S., there are no federal gambling laws prohibiting an individual from sports betting online at legally licensed and regulated offshore betting websites. However, because the US government is not involved in the regulation of offshore sites, Americans cannot ask Big Brother to intervene should a dispute arise.
*To protect you and your money placed on future wagers, we can ensure every website listed above is 100% legal, is licensed and regulated and among the most trusted and reputable online gambling brands on the Internet.
Betting At A Physical Location: On May 14, 2018, the U.S. Supreme Court ruled in a 6-3 decision the Professional and Amateur Sports Protection Act of 1992 (PASPA) in its entirety to be unconstitutional under the 10th amendment. After the decision, the legalization of brick and mortar (having a physical location) sportsbooks was handed to the states, and the states could then pass their own laws and regulations regarding sports betting.
Currently, there are four states that allow brick and mortar legal sports betting: Nevada, Delaware, New Jersey, Mississippi. Rhode Island has passed sports betting legislation and is in the process of preparing to launch their sportsbook gambling initiatives. There are a handful of other states that have legislation pending or in the works, so this list will most definitely grow.
International
Regions outside of the United States are typically much more progressive when it comes to gambling regulation. This being the case, many countries sanction gambling and allow both online and/or land-based options. Most of the sportsbooks we recommend on this page accept bettors from a wide range of countries. Typically, bettors from a specific region who are not eligible for account registration are from a country that prohibits specific forms of gambling.
It is the responsibility of each bettor to be aware of the gambling laws for the jurisdiction in which they reside and to determine the legal status of online or offline gambling entertainment. Keep in mind that just because you are not banned from a specific online gambling site does not mean that you are relieved from the responsibility of making sure you are not violating any local laws by placing bets online.
Future Betting Odds F.A.Q.'s
Q: Is online sports betting legal?
A: Yes. There is no U.S. federal or state law that prohibits sports betting at legally licensed and regulated domestic or offshore betting site. In the table at the top of the page, we have a list of the websites that are 100% legal and have been reviewed by our staff to ensure they are safe to use.
Q: What is the legal gambling age for sports betting?
A: The answer here really depends on where you are located. Most US states have established the minimum legal gambling age for sports betting to be 21 years and up. However, there are a few states where 18+ bettors are going to be welcome to place sports-related bets. Most offshore online sportsbooks accept customers who are 18 and over. For International regions, you will find that the minimum legal age to bet on sports ranges from 18 to 21 in most cases.
Q: Can my bet be refunded if I make a mistake?
A: No. Once a bet has been placed on any betting website, it is locked in permanently. You can place a bet on the other side of an outcome to avoid a huge loss, and you'll essentially only lose the percentage of juice in a betting line.
Q: Do the odds ever change for future bets?
A: Yes. Odds do change as the outcome or event gets closer. The odds will never change on the bet you place because the amount you wager and the odds you bet on are locked in. When the odds change is dependent on what the bet is placed on, but just know future odds can change every day.
Q: What is a hold percentage?
A: In futures betting, a hold percentage, also known as vigorish or "juice" is a percentage the bookmaker adds to the odds to ensure they make a profit on the betting line. The percentage is usually very small and is used to prevent arbitrage betting.